August 25, 2021

RA International partners with Elemental for Governance

Posted at 9:48 am

in

News

 RA International Group PLC, the AIM-listed specialist provider of complex and integrated remote site services to Humanitarian, Governmental, and Commercial organisations globally, has appointed Elemental to advise on their corporate governance.

Elemental has already put in place a full governance calendar for the board and its committees. The firm has also put in place a full governance and company secretarial support plan to advise on AGM support, Companies House filing requirements, corporate governance, and AIM rule compliance.

Following an initial period of collaboration RA International Chair, Sangita Shah said "Elemental provides a thoroughly professional all-encompassing excellent service and I have no hesitation in recommending them to other companies".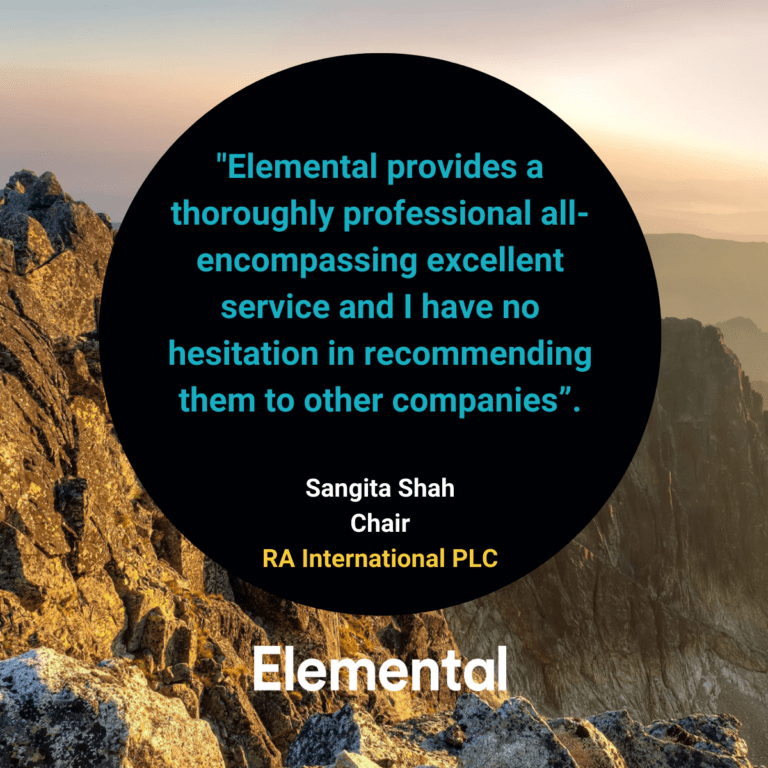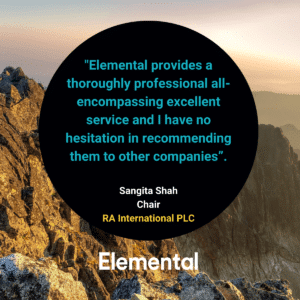 Nick Lindsay, Director of Governance and Corporate Services at Elemental, said "We have been in discussions with RA International for several months and are delighted to support them on the full breadth of their governance needs going forward as their preferred outsourced partner."
About RA International
RA International is a leading provider of services to remote locations in Africa and the Middle East. The Company offers its services through three channels: construction, integrated facilities management and supply chain, and services three main client groups: humanitarian and aid agencies, governments, and commercial customers, predominantly in the oil and gas and mining sectors.
For more information: https://rainternationalservices.com/
About Elemental
Elemental is an integrated professional services firm offering joined-up support across governance, compliance, and accounting. Elemental partners with boards, law firms, and in-house legal and accounting teams. They have represented over 1,600 clients from over 100 countries, including a number of listed companies. Elemental advises a number of boards and committees of listed companies on implementing governance frameworks and best practices.